In recent years, the idea of having a campervan conversion to take on quick getaways, road trips and family holidays has become increasingly popular. There is nothing quite like being able just to drop everything, get into your camper van, and just drive wherever you want to go.
One of the greatest appeals of camper van conversions is their size. There is ample room to drive and ride comfortably in the front, with just the right bed and living space in the back, in relatively small vehicles, making them easy for anyone to drive, cheaper to run, and easier to get around in.
However, as they have become more and more popular, more and more vans and companies have jumped on the wagon, leaving you with an intense amount of options! It can be quite daunting to know what you want, especially if this is your first time buying a camper van conversion.
Well, let's start with the vehicle itself. What is the best van for camper conversion? If you're looking for the best small van for camper conversion UK buyers flock to, we've got plenty of great ideas.
VW camper conversions
Although there are plenty manufacturers out there that offer some pretty good vans, there are none quite like Volkswagen. The best van for camper conversion UK roads play host to will, by and large, roll off the VW line.
Whenever we hear or see the name Volkswagen, we immediately associate it with quality. Volkswagen has been making top-quality vans since the 1940s and has continued innovating and improving our van experience ever since.
Now, as frequently as they are used as working vans, they are also a number one choice for holidaymakers, families, and road trippers.
As they are incredibly comfortable, long-lasting, and affordable, it is only natural that people first think of Volkswagen when they think of their ideal camper van conversions.
Of course, being a big company in vans, there are a few options to choose from Volkswagen when it comes to finding the right camper van for you.
When it comes to camper van conversion, ideally, you should always start by looking at the Volkswagen Transporter range. The VW Transporter Camper has been used for years and years as a reliable and affordable base for touring and holiday making. In fact, they were once voted the second most reliable van in the UK.
VW T5 camper
The T5 model is obviously the older of the two options (the T5 and the T6); however, it does have certain qualities that the T6 simply doesn't.
Most importantly, consider the price. As the T5 is a relatively old model, there are plenty of very affordable options on the market for a great quality vehicle.
The T5 holds up well and retains its main selling features such as its car-like drive, its spacious interior, and its strong engine.
The build quality is outstanding, and upon purchasing one, you will have a hard time believing that it is an older vehicle.
Here at Sherwood Campers, our business started with a Volkswagen T5 conversion, so to say that we know this van inside and out would be an understatement!
We currently have three available options for the Volkswagen T5 conversions, including The Rufford, The Sherwood Forrester, and The Newstead, with prices ranging from about £15582 – £16992.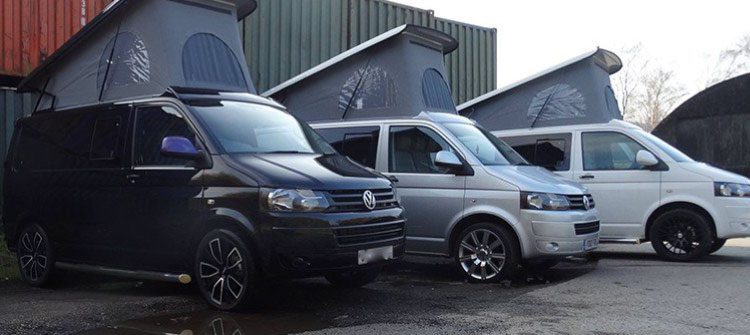 VW T6 camper
The Volkswagen T6.1 is the most recent option in the Transporter range, making it an ideal choice for multiple reasons.
First of all, the primary and most crucial difference for many of us is the difference in emissions.
The T6 has a new Euro 6 diesel engine, making it cleaner, more efficient, and all-around better for the environment. This also means that you are far less likely to have to pay certain charges regarding your emissions when opting for a T6 van conversion, that you would have to pay in a T5 or in other types of van.
However, regarding the style, the efficiency, the strength and the ease of use, the T6 does not differ from the T5 too much. It is obviously a more modern version of the T5 but has managed to keep all of the best qualities from its ancestor.
Other Points to Consider
Of course, there's more than just the VW lines to consider. There are a few different features to camper conversions which can help to change your long-term experience. If you are completely new to camper converting, here's a quick rundown of the points that matter the most:
Wheel Bases. Different vans have different wheel base sizes. A short wheel base, or SWB, is ideal for shorter, more compact parking. There's actually around a 400mm difference between SWBs and LWBs (long wheel bases), but when it comes to room or parking convenience, you'll need to choose between them.
As you can imagine, camper vans are pretty hefty machines. They arrive in categories T28, T30 and T32 (with these maximum weight categories including passengers, camping gear and everything else inside your van). T32 is the heaviest at around 3,200kg, with T28 weighing around 2,800kg. T30 tends to be fairly popular as the balanced choice, and these vans weigh around 3,000kg.
Horsepower and Gearbox. Power is a big driving factor for camper van buyers. Luckily, you'll find some vans offer up to 204HP, from 90HP as a base. That's a lot of thrust. What's more, as with standard road vehicles elsewhere, you can choose between manual and automatic gearboxes.
Door Features. Camper van doors can vary depending on convenience and openings. With some models, you will receive tailgate or barn door options. Tailgate options are popular as you can open them vertically, shielding you from the rain if you need to pop open the back. Keep in mind, too, that some vans have shut assist, helping to secure tailgates and side sliding doors.
Colour and Look. Yes – of course – colours and styles make all the difference! Thankfully, there are many, many different finishes and shades to choose from, with new VW camper van looks rolling off the assembly line all the time.
Conclusion
Are you interested in buying a new VW camper van conversion? Would you like to know more about the best van for camper conversion in the UK? Then please do not hesitate to contact Sherwood Campers on 01623862951 or by emailing us at info@sherwoodcampers.co.uk.