VW T6 Campervan Conversions
Request A Free Quote
Plan the perfect family getaway with a VW camper conversion. Contact us today for a FREE quote!
The Volkswagen Transporter T6 is the latest addition to the VW transporter family..
Released in 2016, the VW T6 is only two years old. Yet, VW T6 camper conversions are already an incredibly popular option for would-be campers and adventurers.
Having had nearly over 60 years to perfect this latest addition to the Transporter range, Volkswagen have created a vehicle with arguably the best build-quality and fuel-conservation on the market. Its safety is also hard to match, with its immobiliser, brake assist, and post collision braking. All of that — and so much more — make it the perfect choice for campervan conversions.
Choose your Volkswagen T6 camper conversion
The Thoresby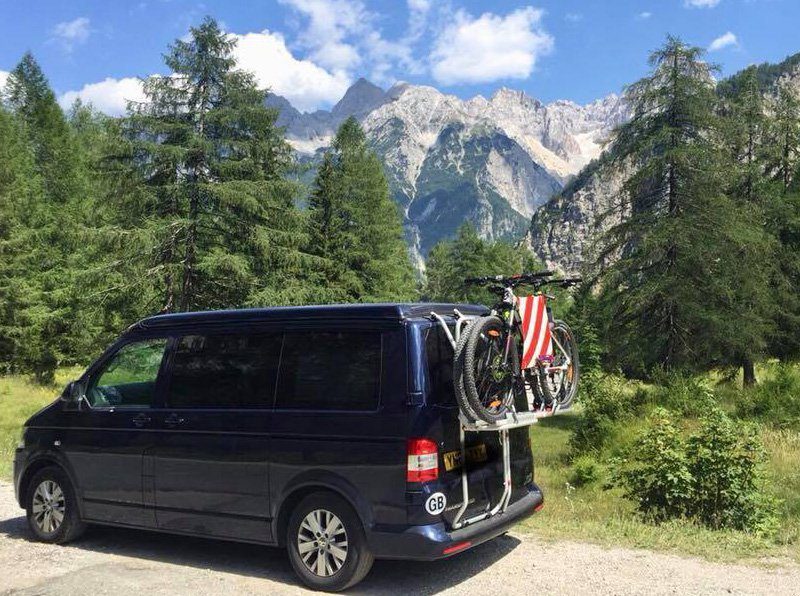 Prices (including VAT)
Short wheelbase (SWB) — £14,182
Long wheelbase (LWB) — £14,432
(Our prices do not include a pop top)
The Rufford
Prices (including VAT)
Short wheelbase (SWB) — £15,582
Long wheelbase (LWB) — £15,932
(Our prices do not include a pop top)
The Sherwood
Finally, our luxury option is Sherwood Forrester. This is a fully-converted living space designed for people who want to extend their trip for a long, long time. When you're travelling in Sherwood Forrester, two weeks become three, three weeks become a month, and — before you know it — you've been using this home away from home to travel for months.
For someone who really wants to embark on a long-term camping trip, this is the van for you.
Prices (including VAT)
Short wheelbase (SWB) — £16,384
Long wheelbase (LWB) — £16,624
(Our prices do not include a pop top)
What do you get from a Sherwood Campers VW camper conversion?
High pressure laminated surfaces with a lightweight leisure board and one tambour door on runners.
A TUV-certified RIB bed, with securing safety bar, covered in VW trim or vinyl and comes with and built-in headrests.
12mm of insulated Altro anti-slip flooring finished with edge trim and a side step with light.
High-quality lining carpet in a range of colours, providing insulation as well as brand new panels.
A CBE power management system with 210 power control unit, a Waeco CRX 50 fridge, 100ah leisure battery with a 4-year guarantee, heavy duty inline fuses, a 240-volt socket, a 12-volt socket, a light switch, and six LED lights.
13 litres of water storage, a 12-volt tap and a 12-volt water pump, meaning waste is taken to the underside of the van.
Two blackout curtains and two windows (one fixed and one an openable slider).
A Smev 9222 double hob and sink with tap and glass tops. We guarantee a full gas installation with a safety certificate.
…And, as an optional extra, Sherwood Campers also installs SCA Pop Top roofs, the perfect extra for your VW campervan. Sherwood Campers can supply and fit SCA Pop Top Roofs for VW T5 and T6 vans. For any other vehicles, please contact us for more information.
About our VW camper conversions
Since the release of the Volkswagen Transporter T6 in 2016, we've been offering VW T6 camper conversions. Because of this, we have the absolute maximum amount of experience a company could possibly have with VW T6 camper conversions. In short, we've literally been converting Volkswagen Transporter T6s since day one.
Our three-seater conversions use Reimo 3000 seating because of the extremely high quality of this system. As an optional extra, we can also add an SCA Pop Top roof to your VW T6 camper conversion. This will give your campervan an extra two metres as well an extra bed.
Our full van conversion services are all about personalisation, and modifications can be made to meet your needs. We want you to have the interior, exterior, blinds, solar panels, LED lighting, or pop roof that you want.
So, contact us today and chat with us about the exact thing you're looking for.
Do You Do Short Wheelbase (SWB) and Long Wheelbase (LWB) T6 Camper Conversions?
We do. We know that Volkswagen Transporter T6s — and all Volkswagen Transporters — come with short wheelbase (SWB) and long wheelbase (LWB) options.
While we personally recommend SWB Transporter conversions, like the Transporter range itself, our aim is to be versatile. So, whether you're looking for an SWB VW T6 camper conversion or an LWB VW T6 camper conversion, look no further than Sherwood Campers.
A Brief History of the Volkswagen Transporter T6
Replacing the 13-year tenure of the Volkswagen Transporter T5 was no easy feat, but the VW T6 can take pride in everything it's achieved. Continuing the proud lineage of the Transporter range, it is yet another great vehicle for campervan conversions.
Available in both short wheelbase (SWB) and long wheelbase (LWB) options, the VW T6 is just as versatile as its predecessors.
Why Should I Pay for VW T6 Camper Conversion?
If you plan on sleeping and living in a van for a weekend or longer, you want to be absolutely sure that it's of the highest possible quality. The last thing you want is to be out camping some place far from home in the middle of the night, regretting settling for second best.
DIY campervan conversions are a popular option for people with enough DIY knowledge and experience, but they can take time. To do it right, it can even take a few years.
By contrast, we can do VW T6 camper conversions in a matter of weeks. When you head out into the countryside and are falling asleep in one of our expertly installed beds, you won't regret the level of build quality and expertise which went into your Sherwood Campers conversion.