VW T5 Campervan Conversions
Request A Free Quote
Plan the perfect family getaway with a VW camper conversion. Contact us today for a FREE quote!
The Volkswagen T5 is one of the best vans for a camper conversion.
It's old enough that you can find great secondhand models for cheap, but it's modern enough that these secondhand models are of great build quality.
At Sherwood Campers, we specialise in VW camper conversions. We're proud of our VW T5 camper conversions because that's where we first began. The first VW camper conversion we did was a Volkswagen Transporter T5. It turned out wonderfully and we haven't looked back.
If we'd have started with a lesser van, we might not be where we are today. So we're thankful for the high build quality, design and performance of the Volkswagen Transporter T5. We owe our business to it.
Choose your Volkswagen T5 camper conversion
The Thoresby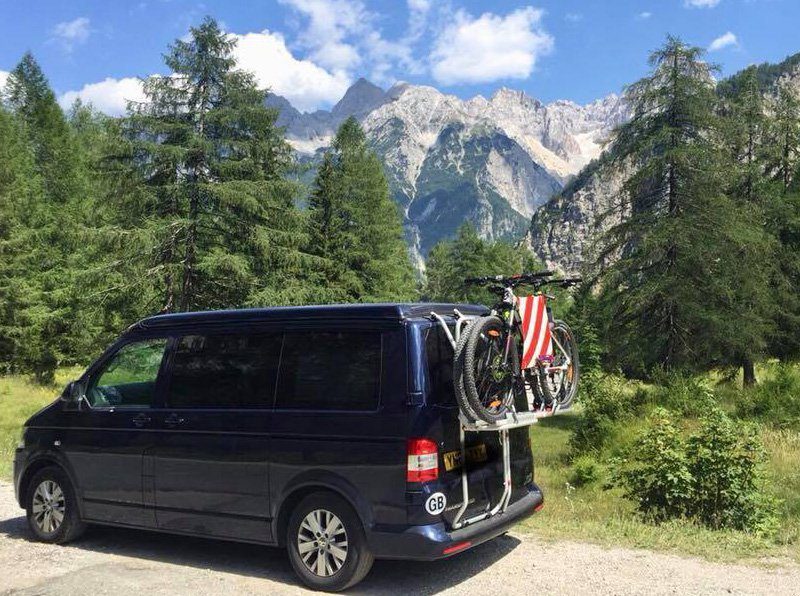 Prices (including VAT)
Short wheelbase (SWB) — £14,182
Long wheelbase (LWB) — £14,432
(Our prices do not include a pop top)
The Rufford
Our mid-range option is the Rufford. Fitted with a few more home comforts than the Rufford, the Thoresby Weekender is a great way to turn your nice weekend away into a nice week.
It's so nice, in fact, that you might get to the end of a week and think: "Maybe we'll go home tomorrow instead…"
Prices (including VAT)
Short wheelbase (SWB) — £15,582
Long wheelbase (LWB) — £15,932
(Our prices do not include a pop top)
The Sherwood
Prices (including VAT)
Short wheelbase (SWB) — £16,384
Long wheelbase (LWB) — £16,624
(Our prices do not include a pop top)
What do you get from a Sherwood Campers VW camper conversion?
High pressure laminated surfaces with a lightweight leisure board and one tambour door on runners.
A TUV-certified RIB bed, with securing safety bar, covered in VW trim or vinyl and comes with and built-in headrests.
12mm of insulated Altro anti-slip flooring finished with edge trim and a side step with light.
High-quality lining carpet in a range of colours, providing insulation as well as brand new panels.
A CBE power management system with 210 power control unit, a Waeco CRX 50 fridge, 100ah leisure battery with a 4-year guarantee, heavy duty inline fuses, a 240-volt socket, a 12-volt socket, a light switch, and six LED lights.
13 litres of water storage, a 12-volt tap and a 12-volt water pump, meaning waste is taken to the underside of the van.
Two blackout blinds and two windows (one fixed and one an openable slider).
A Smev 9222 double hob and sink with tap and glass tops. We guarantee a full gas installation with a safety certificate.
…And, as an optional extra, Sherwood Campers also installs SCA Pop Top roofs, the perfect extra for your VW campervan. Sherwood Campers can supply and fit SCA Pop Top Roofs for VW T5 and T6 vans. For any other vehicles, please contact us for more information.
About our VW camper conversions
Our business started off with a VW T5 camper conversion six years ago and we're proud to continue that tradition.
Performed by a close-knit team with years of experience, our VW camper conversions are the best on the market. Using the best materials and equipment, we create a stylish, comfortable, and safe campervan that you can drive, sleep, and holiday in.
For three seaters, our conversions feature Reimo 3000 seating, the highest-quality system around. We can also add an SCA Pop Top roof to your VW T5 camper conversion to give your campervan an extra two metres and an extra place to sleep.
Our full van conversions can be modified to meet your needs so that you can get the exact interior, exterior modifications, blinds, solar panels, LED lighting, or pop roof that you're looking for. The choice truly is yours, so contact us today and talk us through what you'd need.
All of the work is done for you and everything is installed to the highest specifications. All you need to do is give us your van.
Do You Do Short Wheelbase (SWB) and Long Wheelbase (LWB) T5 Camper Conversions?
We get asked this question a lot, and yes, we do perform VW camper conversions for both short wheelbase (SWB) and long wheelbase (LWB) Volkswagen Transporter T5s.
We personally recommend SWB T5 campervan conversions because they are the best quality campervans for converting. Our prices differ for these two options, but we're happy to accommodate for both SWB and LWB VW T5s.
A Brief History of the Volkswagen Transporter T5
All VW Transporters are top-of-the-range products, but perhaps none more so than the VW T5. What makes it extra special is that it is the product of decades of progress from Volkswagen in perfecting the people's van. For a lot of people, the Volkswagen Transporter T5 is the best van in the range.
It was introduced in 2003 to replace the Volkswagen Transporter T4 and the last VW T5 rolled off the production line as recently as 2016. In the modern era of car manufacturing, it's quite amazing for a model of a car to last for 13 years and to remain desirable.
Put all that together, and you really do have the best van for camper conversions.
Why Should I Pay for VW T5 Camper Conversion?
You can do a VW camper conversion yourself. In fact, there are plenty of DIY camper conversion options out there. However, there are many reasons to choose our service instead.
Firstly, we're experts. We've been doing VW camper conversions for years and it's what we've dedicated our careers to doing. Secondly, there's the quality. This goes hand-in-hand with the fact that we're experts, because having spent years converting VW T5s, we know all of the best materials and suppliers to use, as well as how to install the perfect fittings.
Finally, there's the time. DIY camper conversions can take years. For some people, this is okay. It's a labour of love and if it means that you won't get to use your camper conversion until you have a few more grey hairs, that's fine.
However, for the people who want to go camping and adventuring this spring, this summer, this autumn, or this winter, we have the service for you. We can perform campervan conversions in a matter of weeks.